Like all the other Outlook versions, Outlook 2013 – 2019 lets you define a rule to automatically add a CC address to emails, but it doesn't offer a similar option to always BCC someone. This article describes how to always BCC in Outlook using the Bells & Whistles Outlook add-in.

Many people prefer to use the BCC field to copy themselves or someone else on every outgoing email, using the BCC field as a quick email management solution.
Unlike the CC field, the BCC field is hidden to the contacts that receive the email, so they don't know that you've BCC-ed someone. However, manually adding addresses to the BCC field of every composed email can be a frustrating task.
Bells & Whistles is an Outlook add-in that adds several productivity & convenience features to your Outlook installation and among these features there is one that lets you always BCC in Outlook when you reply, forward or create a new email.
How do I always BCC myself with Bells & Whistles?
The add-in works with all Outlook versions, starting with Outlook 2003 (including Outlook 2019). Once you download & install it, you need to access its options and enable the "Always BCC" feature.
1. Click on the Bells & Whistles Options menu:


Now you can apply various options to your emails. Using the filter categories, you can choose to apply these options to all emails or only to certain contacts or actions (new email, reply, forward).
If you want to always BCC on every Outlook email, simply stick with the "everyone" rule and scroll down the Mail Options window until you reach the Message Options area.
2. On the Message Options area, enable the option "add these recipients" and enter the desired address in the BCC field: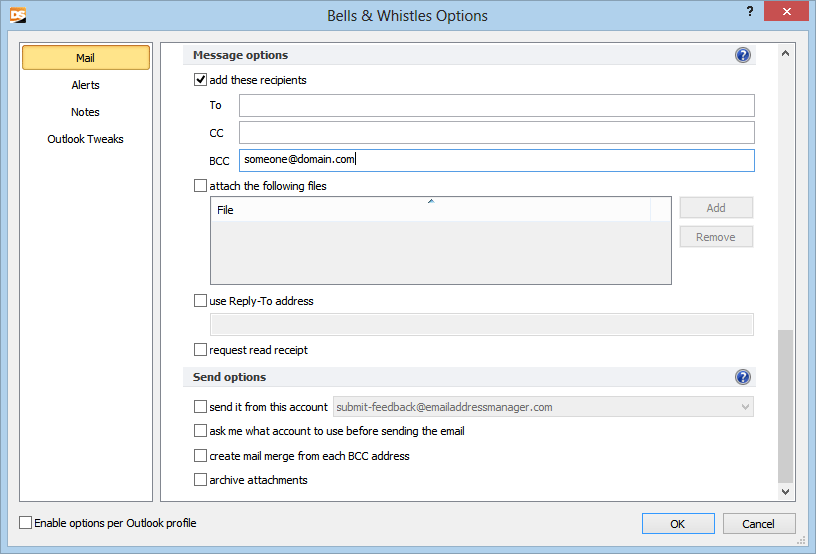 You can add multiple addresses in the BCC field, separated by semicolons, so Outlook will always send a BCC copy to multiple recipients. You can also choose to always add email addresses in the TO and CC fields.
That's it. Now you can exit the Options window and start composing emails: Outlook will always BCC on your behalf.
Bells & Whistles includes many other automatic message options, such as:
– always attach selected files to emails;
– always use a given Reply-To address;
– always request a read receipt;
– always use a selected account when sending emails;
– always archive outgoing file attachments;
– always use the HTML format to all your emails.
Here is an impressive list of features. And here is the free trial download link.