For various reasons, it may happen that Outlook hangs on loading your profile and it stops responding (freezing). In this article we will detail some of the most common solutions for this issue.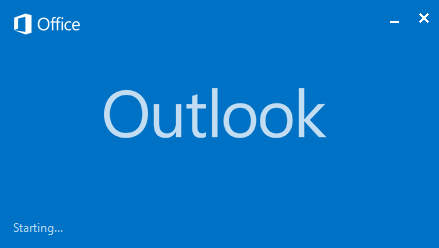 Outlook hangs because its data files are being accessed by other applications
When Outlook starts, it needs to access and lock its data files (PST or OST files) in order to read & write to them. If your data files are already being accessed (or locked) by other applications, Outlook will hang on "Loading profile…" while waiting for the data files to become available.
Such situations can occur if:
Third party applications are syncing with Outlook at that moment (for example Google Calendar, Microsoft Communicator etc). Solution: identify the installed applications that might require synchronizing with Outlook and stop these applications from their sync process or wait for them to finish;
Your anti-virus is scanning your data files. Solution: disable your anti-virus and see if the problem is solved;
Your Windows search engine is currently reading / indexing your data files. Solution: stop the indexing service and see if Outlook loads fine;
There is an earlier Outlook process / session that still runs in background, locking your data files. Solution: start the Windows Task Manager and kill (end process) the outlook.exe processes that are running, then try again to start Outlook.
Outlook hangs because of a conflict with a 3rd party program
While this situation shouldn't happen, it does. For example, it is notorious that SonicWall VPN might cause Outlook to stop loading and the only solution is to uninstall SonicWall.
If Outlook used to load fine until recently, check the applications that you installed or updated in the past days and uninstall them to see if the problem gets solved.
Outlook hangs because its data files are corrupted
For various reasons, your Outlook data files may become corrupted. Normally, if Outlook determines that its data files are corrupted, it should immediately start the data file repair process. Unfortunately, it doesn't always determine that a data file is corrupted, so Outlook hangs up while loading.
To solve this issue, run the ScanPST tool available with the Outlook installation.
Outlook hangs because other Outlook files or settings are damaged
If your hard disk is damaged or if you recently had to deal with some viruses, your Outlook files may have been damaged, causing Outlook to hang while loading. To repair your Outlook installation, simply go to your Windows Control Panel -> Programs (or Add/Remove Programs, depending on your Windows version), find the Microsoft Office installation in the programs list and choose to repair it. Please note that, depending on your Office version, you may need to provide the Office installation disk.
Also, if somehow your Outlook settings are damaged (usually because of a 3rd party software or add-in), you should try to load Outlook in safe mode. To launch Outlook in safe mode, simply hold the CTRL key and double clicking on Outlook icon to run it. If Outlook starts fine in safe mode, you need to check if there is a conflict with a 3rd party program (see above).
Have you found a different solution to your Outlook "hang on loading profile" issue? Please post your comments below, so other people can benefit from your experience!