Unfortunately, dealing with Outlook duplicate emails is a common frustration. For various reasons, we all end up having to deal with lots of duplicated emails, but removing them can be a very time consuming task, if done manually.
In this article we will detail how to automatically remove Outlook duplicate emails using Weight Diet, an Outlook optimization add-in designed to remove duplicate and obsolete items from Outlook mailboxes.

How to remove Outlook duplicates with the Weight Diet add-in
First of all, you need to download & install Weight Diet for Outlook. It is designed to work with all Outlook versions, including Outlook 2013. As you will see later in this article, the product is designed not just to remove Outlook duplicate emails, but also to perform other critical mailbox optimization steps and make Outlook regain its lost speed.
On your main Outlook window, you will notice a new toolbar / ribbon called Weight Diet. Click on its Start button:


You will be given a set of possible actions: among them there is the option to remove Outlook duplicates: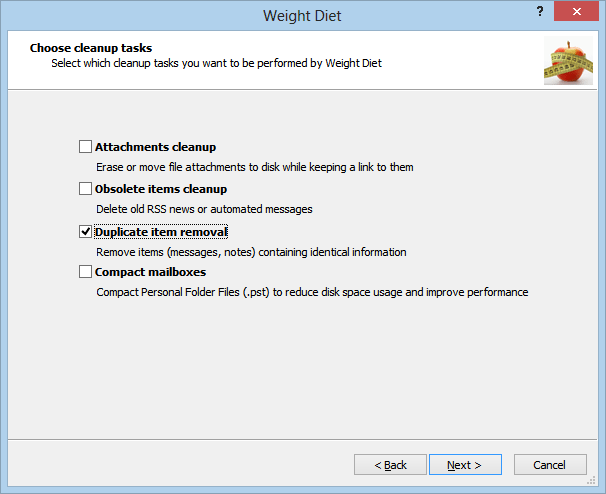 Then you can choose which Outlook folders to scan & remove duplicates or you can simply let it search for duplicates in all your folders: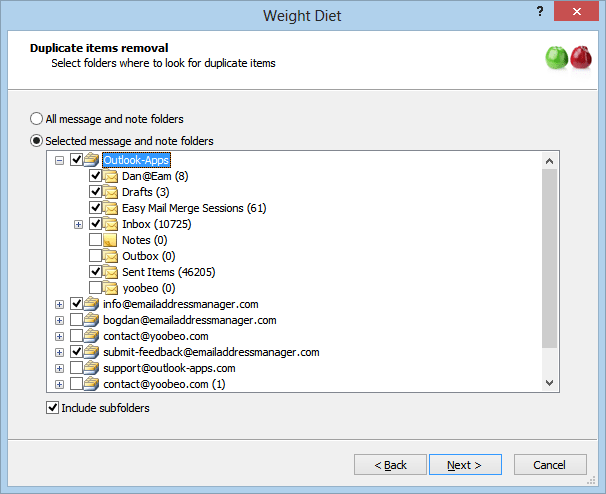 Weight Diet will start scanning & removing duplicates. When it's done, it will display a report like the following one, showing how many Outlook duplicates were removed and the Outlook data file size before and after the selected optimization actions: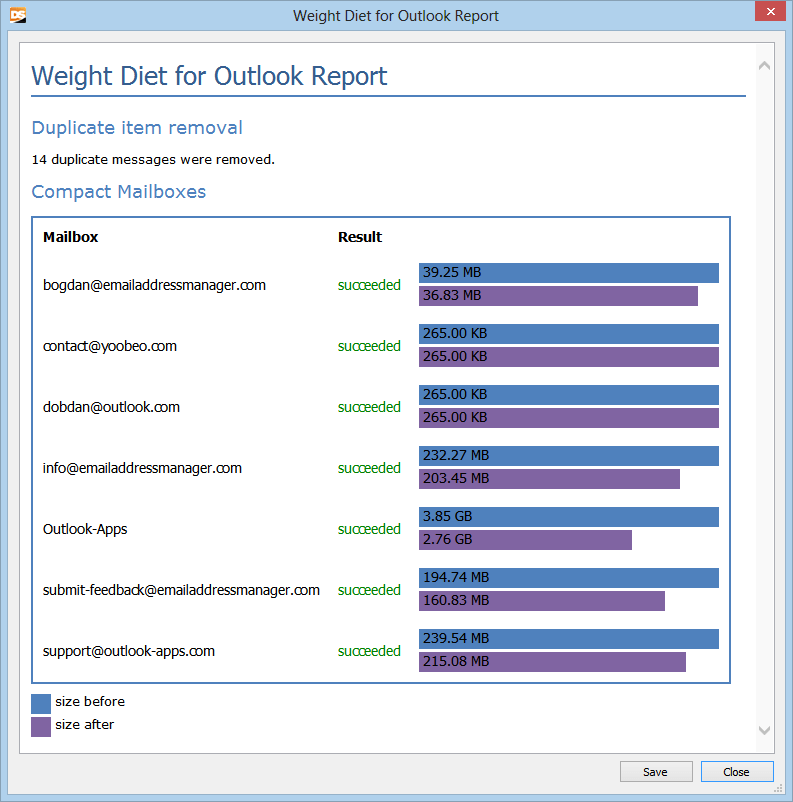 On top of the ability to remove Outlook duplicate emails, Weight Diet also helps you shrink Outlook mailbox files by automatically removing obsolete items (such as mail delivery failures, out-of-office replies, old RSS feeds etc) and by compacting your Outlook data files.