In this article we will explain how to create and insert an Outlook template (an email theme for Outlook). Once you do it, you can automatically apply your template / theme to all Outlook emails that you're composing. The below instructions describe the required steps to create & use the email template file on Outlook 2013, but similar email template building steps apply to earlier Outlook versions, too.

First of all, you need to create the Outlook template in HTML. You can do so by using the Outlook email editor (simply create a new message, design its content and make sure its format is set to HTML) or by using any other HTML editor. If you are designing the Outlook template using an external HTML editor, please make sure that all images are linked using absolute URLs. Here is a complete tutorial to create and insert HTML files to Outlook emails.
Assuming you already designed your email template and you are viewing it as an Outlook email, you have to follow these steps:
1. From the Outlook menu, click on File -> Save As: select to save the email as a HTML file and choose to save it to your Microsoft Stationery folder. On Windows Vista/7/8, the folder is %appdata%\microsoft\stationery (just paste it to your folder path area and hit Enter). Alternatively, you can just copy & paste the HTML template file to the same folder path (if you didn't design the template using Outlook);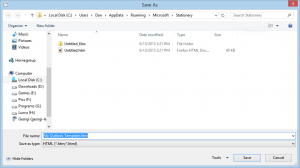 2. if you want to set this template as your default Outlook email theme, go to your Outlook Options menu -> Mail -> look for the "Stationery and Fonts" button: click on it, then select the template that you saved above and click OK to set it as the default email theme.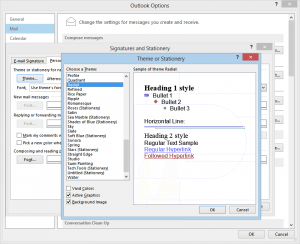 3. you can now create a new Outlook email and you will see that Outlook will automatically apply your Outlook email template for all emails you are composing.
That's it 🙂
By the way, if you are looking to insert text templates to your Outlook emails, there is always Bells & Whistles for Outlook which can easily do the job for you.