Time Saver Outlook Add-in
According to a research conducted by the McKinsey Global Institute, office workers spend – on average – two and a half hours per day reading, replying and sorting emails! The Bells & Whistles add-in for Outlook can save 40% – 60% of the time you spend composing an email, literally freeing up several hours of your time, every month!
100% Outlook Productivity
Bells & Whistles is an Outlook add-in that includes more than 40 different features designed to help you manage and compose emails better and quicker. Bells & Whistles is the result of several years of Outlook add-in programming combined with the daily use of Outlook and lots of feedback received from our customers. Bells & Whistles is THE Outlook add-in that smoothly improves your email routine without changing the way you deal with emails. And you're basically paying less than $1 for each Outlook productivity feature that you benefit from!
New: Email Metrics for Outlook
The new Email Metrics feature gives you extensive email statistics based on your Outlook workflow, allowing you to better understand how to manage your daily emails and improve your email routine. The Outlook add-in can inform you about the busiest email hour of each day, average response times to your emails, most common keywords, average email length and so on. If you deal with public relations, the add-in will provide you with great insights of your contacts' email behaviour.

"Bells & Whistles for Outlook saves you dozens of keystrokes by handling such pesky tasks as automatically adding a greeting to a reply, or warning if your outgoing message is missing an attachment or a subject line." PC World Magazine

"The aptly named Bells & Whistles for Outlook users is a keeper. Although all of its tools aren't as equally beneficial, combined they flesh out Outlook very well. In particular, BW's simplistic, yet handy, Notes utility may be worth forking over nearly 30 bones for alone." Computer Power User Magazine

"Everyone has a copying mechanism to deal with the masses of email they get sent every day, but now you can save time and hassle by automating common messages and tasks with Bells & Whistles for Outlook." PC Pro UK

"My favorite bit is the ability to customize your reply messages. I've got Bells & Whistles set up so that all my replies are sent in plain-text format, and the first name of the person I'm replying to is auto-populated at the top of my reply. I can even customize the characters that follow the name." EveryJoe.com

Bells and Whistles for Outlook includes many small but nifty tricks that better life with Outlook. About.com

"If it's a real upgrade your looking to give to Outlook you can try out Bells and Whistles for Outlook. This add-on has no less than 19 productivity tools available, among which email notes, automatically adding new contacts to directory or message exchange tracking." Softonic.com
Key Benefits

Compose Emails Faster
That's right, Bells & Whistles actually makes you write emails much faster by automating repetitive texts such as the greetings line, signature, disclaimer section or boilerplate texts! You can assign a category and a keyboard shortcut to each template.

Avoid Common Email Mistakes
Bells & Whistles monitors the email that you are composing and notifies you if you forgot to add a file attachment, if you left a blank subject line or if you used excessive upper case letters. You will never be embarrassed with your own emails!

Manage Your Inbox Better
Our Outlook add-in makes your Inbox email management a lot easier by adding email subject tracking IDs and allowing you to add text notes to each email message that you can later use as reminders or references.
It can also automatically compress files attached to outgoing emails, so the sent email will require less mailbox space.

Convenience Features
Bells & Whistles includes a set of convenience features that helps you configure Outlook the way you want it. For example, you can easily specify which file attachment extensions to allow or block or you can quickly create a new Outlook task from an Inbox email. It even lets you re-edit and resend already sent emails!

Outlook add-ins management made easy
Bells & Whistles also includes an Outlook add-ins utility designed to easily let you view, enable or disable every Outlook add-in that you have installed on your computer.

Seamless Outlook integration
Bells & Whistles is designed to fit perfectly with the following versions of Microsoft Office for Windows: 2007, 2010, 2013, 2016 and 2019 (x32 and x64). For Outlook 2013, 2016 and 2019, Bells & Whistles also offers full support for the new in-line message compose method.
Email Automation Showcase
Bells & Whistles offers many Outlook automation tweaks. Each automation feature can be applied to all emails or you can define automation rules so certain features are applied differently, case by case. For example, here is how it can automate almost all your email content and actions when you reply to an email (click on the image to enlarge):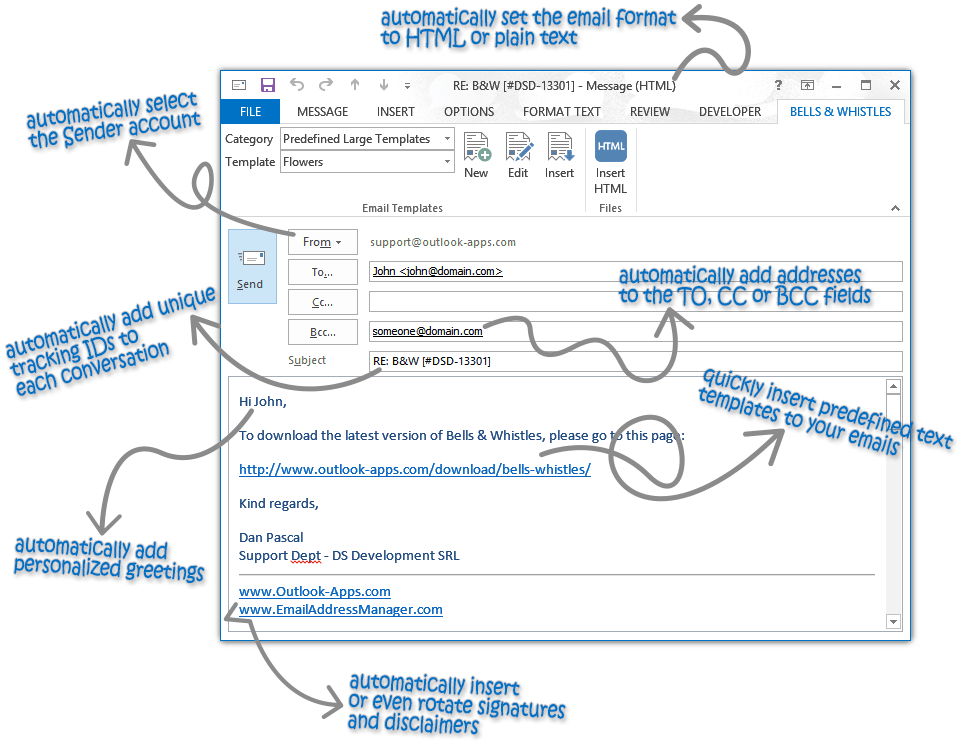 There is simply no other Outlook add-in that can improve your Outlook experience in so many ways! And it only costs $29.95 for a life-time license!