When you're trying to send a file attachment in Outlook, you have two deal with two file attachment limits: the max limit enforced by your recipient's mail server and the max attachment limit enforced by Outlook.

Outlook limits you to maximum 20 Mb per email attachments (no matter if it's a single file or multiple files that count to 20 Mb). If you try to attach files greater than 20 Mb, you will receive the following Outlook error message: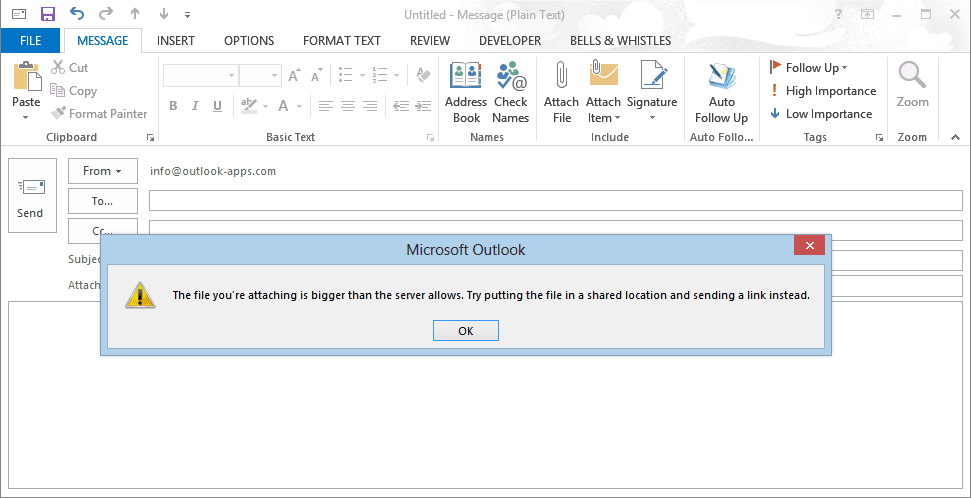 How to send files greater than 20 Mb with Outlook
If you need to send files greater than 20 Mb, you have three solutions:
1. tweak your Windows registry to increase the Outlook allowed max file size (see this Microsoft article);
2. upload the file(s) to a file sharing or cloud service (such as DropBox, iCloud or SkyDrive) and email the download link instead of the actual files;
3. compress the file attachment using a compression utility like WinZip or WinRAR. Even better, you can use Bells & Whistles for Outlook in order to automatically compress all attachments to outgoing emails, so you don't have to manually compress each attachment.
Please note that, even if you increase the max allowed file size from the Windows registry, it may be useless because a large file attachment will anyway be rejected by the mail server of the person receiving it. Most email servers allow between 10 and 30 Mb per incoming email.