Some of us simply need to always attach files in outgoing Outlook emails, especially if we deal with business emails. For example, one may need to automatically attach a business card or a brochure to all business emails. In this article we will explain how to always attach files to Outlook emails using Bells & Whistles for Outlook.

What is Bells & Whistles for Outlook?
As its name says, the product adds "bells and whistles" to Outlook: over 40 productivity features and tweaks designed to better your Outlook experience. It works with all Outlook versions, including Outlook 2019.
Among these features, there is the option to automatically attach files to outgoing emails.
How to always attach files to Outlook emails
restart Outlook;
locate the Bells toolbar in Outlook and click on its Options button;
in the Options window, go to the Mail tab;
scroll down to Message Options and enable "attach the following files";
browse and select the files that will be automatically added to emails.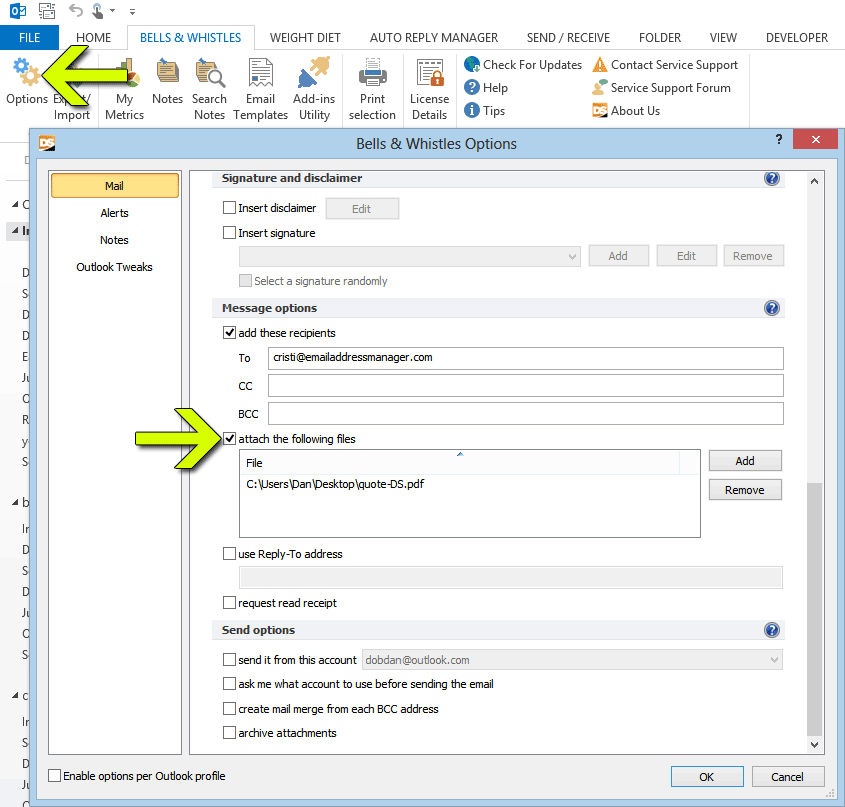 When you will compose an email, the add-in will automatically attach the selected files to it.
Optionally, if you want to always attach files only on emails sent to certain persons or only to new / reply / forwarded emails, you can create Bells & Whistles rules to match your requirements.
The option to attach files to emails can be used in conjunction with all the other Outlook automation features of Bells & Whistles.