With the newer Outlook versions you can use Outlook rules to create Outlook auto reply email messages without an Exchange server, but the built-in auto reply options are pretty limited if you want to tailor auto replies to various scenarios. In this article we will detail the auto reply features of Auto Reply Manager for Outlook.

Defining Outlook auto reply rules
Using Auto Reply Manager, you can enable Outlook auto reply messages based on the following rule options:
Auto reply only to emails received through selected Outlook account(s);
Auto reply only to emails received in selected Outlook mail folder(s);
Auto reply only to emails received from specified senders;
Auto reply to all emails received from each sender or only to the first email received from each sender;
Auto reply only to emails received during a specified date / time range or only during selected week-days (repetitive);
Auto reply only to emails containing defined keywords in the email subject line or email body content;
Auto reply only to emails that have file attachments.
The ability to send auto replies in Outlook is a great asset for any organization that needs to quickly confirm or respond to emails, following a reply pattern.
You can mix all the above auto reply options, so you can create Outlook auto reply rules that precisely match your requirements.
Customizing the auto reply email
On top of the options designed to trigger Outlook auto replies, the Auto Reply add-in also lets you greatly configure the auto reply email content:
You can select the Outlook account for your auto replies;
You can choose to include an email address in the BCC field of the auto reply;
You can input the auto reply email content using a built-in editor (you don't have to use Outlook template files);
You can set the importance of the Outlook auto reply email;
You can attach files to the auto reply email template;
You can add tracking IDs in the subject line of your auto replies;
You can choose to delay auto replies with a certain period (days / hours / minutes).
Here is a screenshot of Auto Reply Manager options in Outlook (click on the image to enlarge it):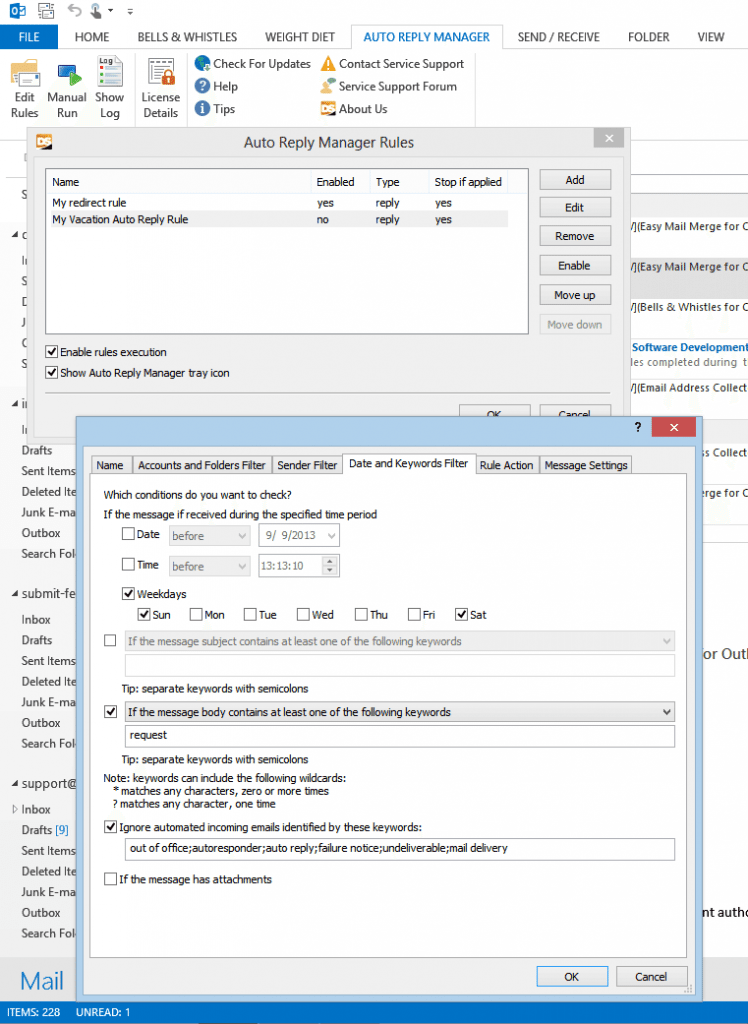 Not only that you can setup Outlook auto reply emails with it, but you can also use the add-in to automatically forward, redirect or resend emails using all the above options.