Starting with version 5, Bells & Whistles for Outlook includes a comprehensive email statistics software engine that allows you to create reports (email metrics) about your Outlook email activity. On this article we will detail these email statistics features.

First of all, you need to download & install Bells & Whistles: it works as an Outlook add-in and it is compatible with all Outlook versions for Windows, starting with Outlook 2003 and including Outlook 2016 and Outlook 2019 (x32 and x64). Once you've installed the Outlook add-in, you can access its email statistics section by clicking on the "My Metrics" button located on the Bells Outlook ribbon menu:


How to Extract Email Statistics from Outlook
Click on the "My Metrics" button shown above and a popup window will let you configure your email statistics options. You can choose to generate Outlook email statistics based on the following stats options:
– specify a period of time for which the email statistics software will generate the reports;
– generate the email reports for all your mail folders or only for selected Outlook folders (for example, if you want to see a report about the number of emails you send per month, you can select only the Sent Items folder);
– create the email reports for all your Outlook email accounts or only for selected accounts;
– choose between the following email statistics, based on the above options:
— daily email traffic stats: how many emails did you send & receive per day? which are your busiest email hours?
— weekly email traffic stats: how many emails did you send & receive per week? which is the busiest day of the week?
— top 10 recipients: which are the contacts that you communicated the most with?
— conversation stats: how long are you email exchanges? What is the average number of emails exchanged for a subject?
— reply stats: how fast do you reply to emails? how often to you reply to received emails?
— word stats: how long are your emails? how long are the emails you've received?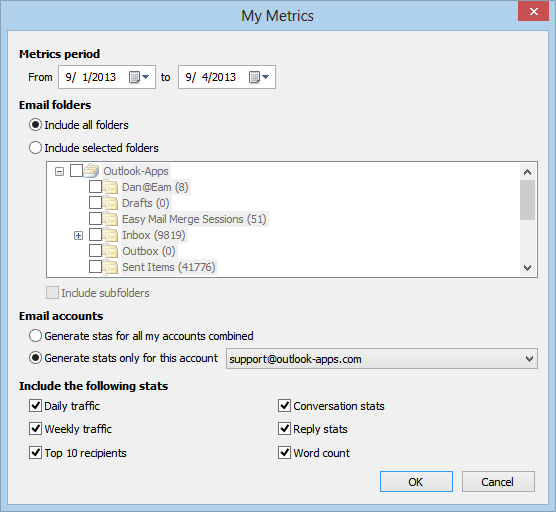 After you have chosen the email statistics that you want to generate, Bells & Whistles will start processing your reports. If you chosen to generate email reports for a long period of time or if your mail folders contain zillions of emails, please be patient, it might a while for the email statistics to be generated…
When the email stats software is done generating the reports, it will popup a new window with them. For example, these are the email stats showing how many emails I received & sent each hour, for the past 4 days: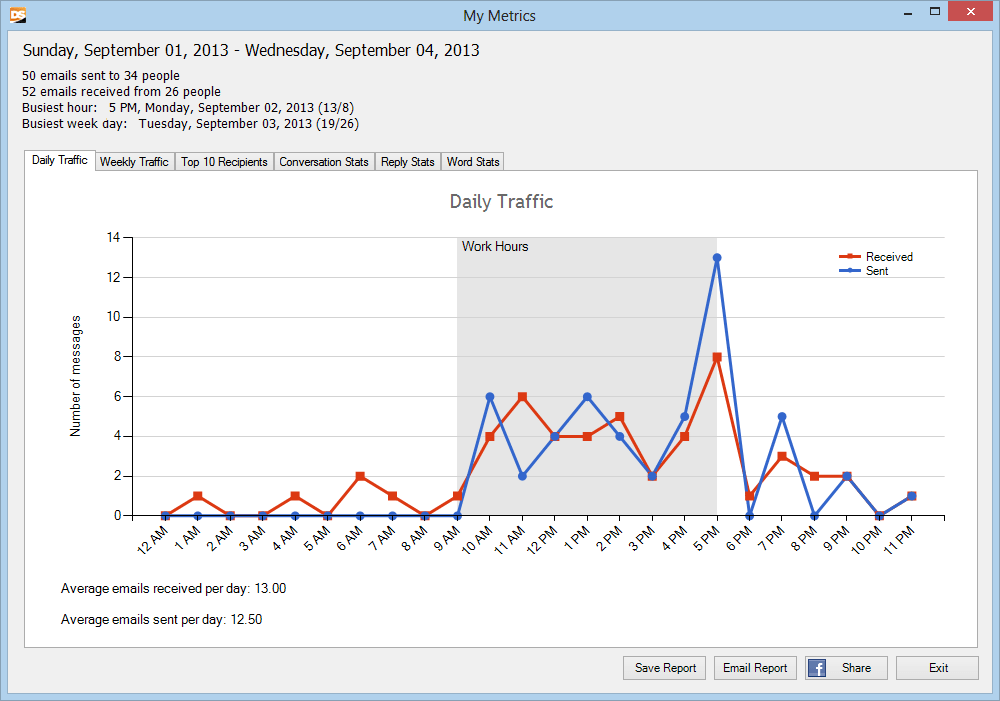 Neat, isn't it? 🙂
For future reference, you can email your stats, you can save them as a local HTML file or you can just share them on your Facebook wall.
Email Stats: what's the point of them?
Well, if your daily routine revolves around Outlook emails, you should want to have access to hard facts revealed by such email statistics! This way, you can learn a lot not just about your own email behaviour, but also about your contacts' behaviour – which, in return, allows you to properly understand your email workflow and you can properly decide if & how to change your email habits.
Do you tend to reply too late to emails? But are you at your desk when you receive most of your emails? Do you spend a lot of time writing replies? But are your replies much longer than the emails you are replying to? All such questions can be answered using Outlook email statistics.
On top of its email statistics engine, Bells & Whistles also features several productivity enhancements for Outlook. Here is a complete features list.