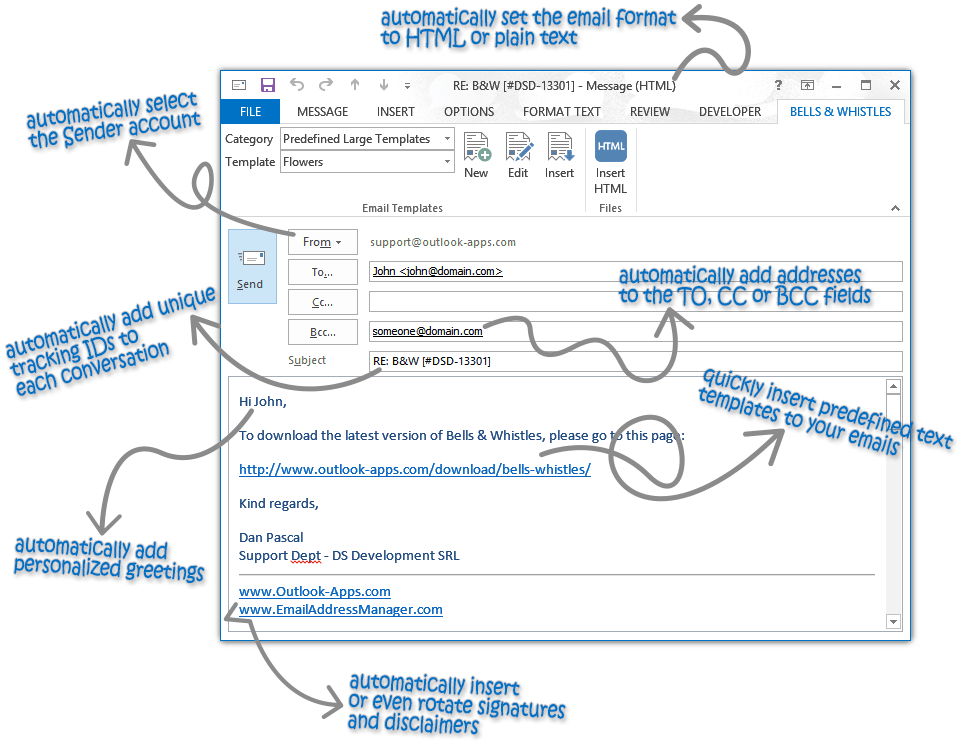 Did you click on the above picture to enlarge it? All these email automation actions can be performed in Outlook using the Bells & Whistles add-in. And even more!


Unlike Auto Reply Manager which is designed to automatically send Outlook emails on your behalf (replies, forwards, redirects), Bells & Whistles adds those email automation options that can otherwise be achieved only with some Outlook programming skills.
Here is a list of Outlook email automation tasks that can be performed with Bells & Whistles:
Email content automation
Automatically insert and personalize email greetings (like "Hi John,"), so you don't have to manually type a greeting line to each email;
When replying to an email, automatically include a text list of initial file attachments;
Automatically number replies with a counter so you always know which reply came first (it adds "Re [1]", "Re [2]" etc to your email subject);
Automatically add date / time stamp to outgoing emails;
Automatically add tracking IDs to outgoing emails, so you can easily refer to a conversation later on;
Automatically insert and rotate email signatures and footer text disclaimers;
Automatically add certain contacts to the TO/CC/BCC fields, when composing emails. If your habit is to always CC or BCC someone on your emails, you can save a lot of time by automating this task;
Automatically attach chosen files to outgoing emails, so you don't have to manually insert them to each email;
Automatically compress file attachments, so the outgoing emails get smaller.
Email properties automation
Automatically select the email format (HTML or plain text) when you reply or forward emails, so for example you don't have to manually change your email format to HTML when you reply or forward a plain text email;
Automatically put people you reply to, in a chosen Contacts list. This feature used to be a built-in Outlook option, but it was removed since Outlook 2007. Bells & Whistles brings it back for you;
Automatically exclude your own Outlook email accounts when replying or forwarding an email where your address is in the TO/CC field, so you don't end up sending an email to yourself;
Automatically make email replies to use a certain font style (so your email doesn't pickup the font style of the original email);
Automatically mark old unread emails as read after a period of time, so you don't end up with lots of unread emails that you are probably not going to read anyway;
Automatically specify a reply-to address when you compose emails, so you don't have to insert one every time when you reply to emails;
Automatically request a read receipt for your outgoing emails, so you don't have to manually enable this option every time when you compose an Outlook email;
Automatically select which Outlook email account shall be used by default, when replying or forwarding emails. By default, Outlook makes you send a reply from the email account where the email was originally received, but Bells & Whistles lets you automatically pre-select a different email address.
And that's not all of it! You can also define and insert content templates to your Outlook emails, you can attach text notes to inbox emails, you can automatically resend an already sent email without editing it again, you can be notified for missing file attachments or other alerts, you can automatically confirm Outlook security warning messages, you can easily choose which file extensions to allow or deny in Outlook and you can use the Bells & Whistles Outlook Add-ins Manager to quickly enable or disable all your other Outlook add-ins.
The email automation engine of Bells & Whistles works with all Windows versions of Outlook, starting from Outlook 2003 and including Outlook 2019 (x32 and x64). Here is the Bells & Whistles download link.