Bounces (or bounce backs) are those sent emails that couldn't be delivered to the intended email addresses. If you send mass emails on regular basis, you might already noticed that a certain percentage of your emails bounce back as permanent delivery failures (hard bounces) and temporary delivery failures (soft bounces).
To avoid unnecessary sent emails and to keep your mailing list clean, you should always remove bounces from your mailing list, especially those addresses that bounced with a permanent delivery failure message. In this article we'll discuss two solutions to automatically remove bounces.

Automatically remove bounces from Outlook mail merge
If you send your mass emails using mail merge in Outlook, you probably use Easy Mail Merge to generate and schedule your mass emails. If you don't, you should use it, as it's the best mail merge solution for Outlook 🙂
Among other options, Easy Mail Merge gives you the option to automatically remove bounces for each email campaign. To enable the bounce removal feature, simply edit your campaign, click on the Send Options button and enable the option "automatically delete email addresses returning failed delivery notifications":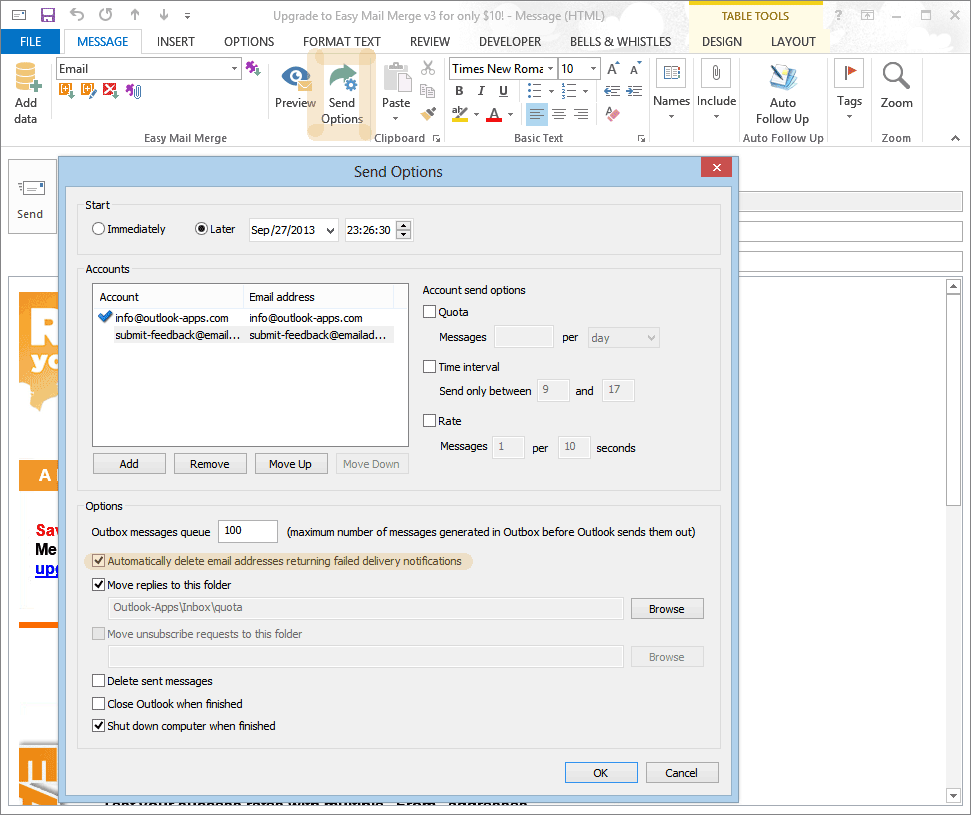 Automatically remove bounces – generic solution
This solution applies to all mass email scenarios, assuming you receive the failure notification emails for the bounced addresses.
The idea is simple: use an email address extractor program like Email Address Collector to extract email addresses found in the failure notification emails. To make it easy for you, Email Address Collector let you specify subject keywords, so you can filter and extract only those addresses found in emails with the subject "Message Deliver Failure". You can narrow your extraction operation even further, by using Date / Time filters or keywords based on the email content, sender etc.
Once you've extracted the bounced addresses, you can save them to a CSV file, then you can use Excel or a program like QuickList to de-duplicate the bounced list from your initial mailing list, leaving you with a clean mailing list.