This article details the unique Outlook Send Options available for your mail merge campaigns created with Easy Mail Merge. These send options work with any Outlook version, including Outlook 2016 and Outlook 2019.

As you probably know, Easy Mail Merge lets you personalize and send individual mass emails from Outlook, using its own mail merge engine. When you send mass emails, it's critical to be able to split your emails into groups, otherwise you risk to get blocked by your email account provider (because you send too many emails, too fast).
Easy Mail Merge gives you several Outlook send options, designed specifically to avoid your outgoing mail server limits: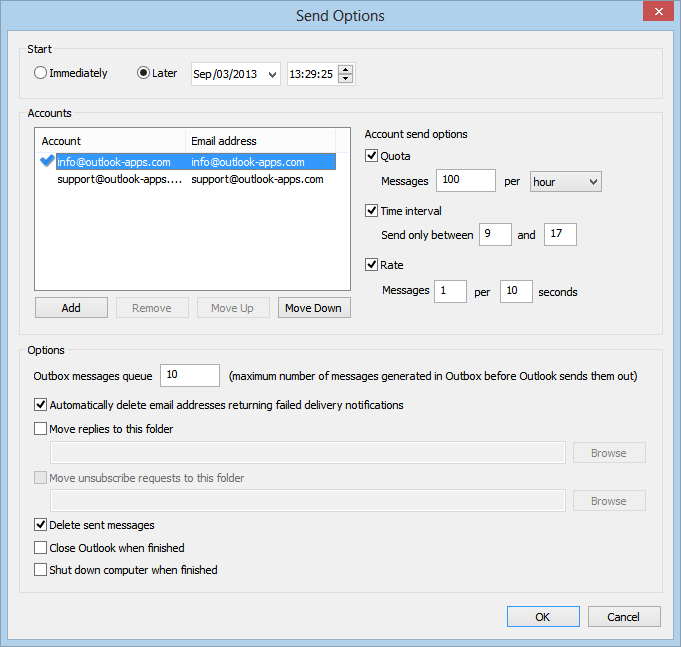 Mail merge schedule options
You can choose to start your mass emails campaign right away or to schedule it for later. If you choose to schedule it, Easy Mail Merge will wait until the selected date/time arrives and then it will start sending the emails through Outlook, based on your other send mail options.
Rotating "From" fields
Starting with version 3 of Easy Mail Merge, you can choose to send your mass emails through multiple email accounts (defined in your Outlook profile). Depending on the limits you enforced for each account, the mail merge program will switch the "From" field between your accounts, one by one. For example, if you selected to send from 3 email accounts and you set a limit of 100 emails per hour, the program will send 100 emails from account A, then it will switch and send another 100 emails from account B, then another 100 from account C. Then it will wait for the hour to pass and it will resume again with 100 emails being sent from account A.
This way you can send more emails in a short period of time, bypassing your single account hourly or daily send limit.
Outlook Account Send Options
For each account that is selected for the "From" field, Easy Mail Merge lets you specify different send options:
– messages quota: specifies the maximum number of emails (per hour or per day) that is going to be sent through the selected account;
– time interval: specifies the hours interval (like between 10 AM and 6 PM) when the emails are going to be sent. As soon as the interval has passed, the program will wait for the specified hour of the next day in order to resume sending your mass emails;
– emails rate: specifies the rate (emails per second) used to generate your emails. If you are about to send zillions of mass emails, Outlook might crash if you choose to generate too many emails at a time. As a result, you can use this option to ease the process.
Other Send Options
The Queue option lets you specify a maximum number of emails that is going to be stored in your Outbox folder, before Outlook sends them. For example, if you chose to send max 500 emails per hour and you set the queue option to 10 emails, Easy Mail Merge will generate maximum 10 emails at a time, then it will wait for Outlook to send them, then it will generate another 10 emails and so on. This option prevents the Outlook send process to become overloaded with send requests.
Other Easy Mail Merge send options include:
– automatically scan for undelivered / failed emails and remove the associated email addresses from your mailing list;
– automatically process unsubscribe requests;
– automatically move replies to a selected Outlook folder;
– automatically delete sent mass emails;
– close Outlook or Windows when the sending process of your mass emails is done.