As you probably know, when you reply or forward an email, Outlook automatically sets your "From" address as the one being used in the initial replied/forwarded Outlook email, no matter which is your default Outlook email account. It can be a frustrating process to always manually change the account to send from… On this article we will detail how to always send emails from one account in Outlook (default account).

Unfortunately, there is no built-in Outlook option to always send from one account. But, you can easily achieve this functionality using the Bells & Whistles add-in for Outlook!
The Bells & Whistles solution works with all Outlook versions starting with Outlook 2003 (including Outlook 2019).
How to always send from one / default account in Outlook using Bells & Whistles
1. download & install Bells & Whistles for Outlook;
2. start Outlook and click on the Bells & Whistles Options button:


3. on the Mail tab, scroll down to the Send Options area and mark the option "Send it from this account" then select the email account that you want to always be used when you send emails, no matter if you send a new email, reply or forward: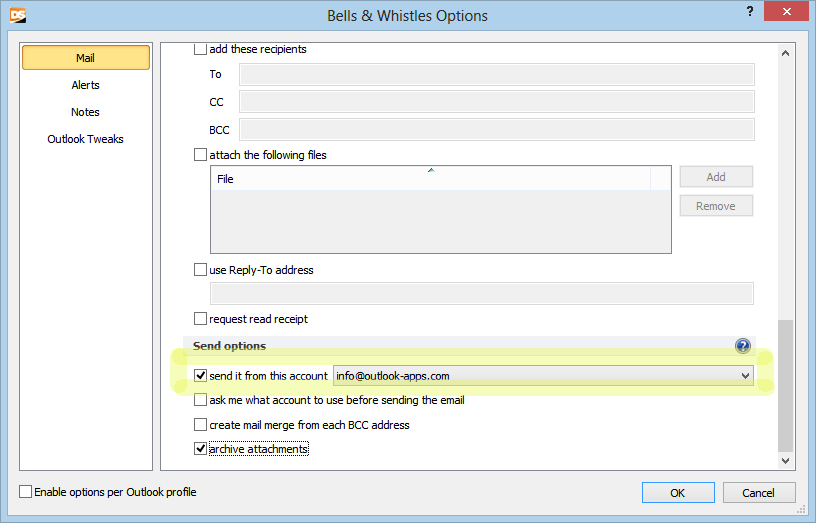 4. optionally, you can define profiles (on top of the "Everyone" profile) that you can use in order to apply different default accounts to different emails. For example, you can configure it to always send your email from Email Account A when you reply to john@domain.com, while you can make another profile to always send from Email Account B when you reply or forward to other people.
Upon applying the above options, Outlook will automatically change the current Sender account to your selected account, when you send an email.
You can set numerous other send options to be applied automatically on your emails: you can choose to always add specified recipients to the TO, CC, BCC fields, always use a certain Reply-To address, always archive attachments, always use HTML format when you reply, always insert a disclaimer to the bottom of your email and so on. Here is a comprehensive list of features available in Bells & Whistles 5.