By default, Outlook blocks file attachments that have file extensions considered to be potentially unsafe, such as executable programs or file formats that can include scripts that may contain malware code. Although it isn't recommended to unblock Outlook attachments marked as unsafe, sometimes you may need to allow such files, especially if they are sent from trusted contacts. This article details how to easily unblock Outlook attachments without having to mess with the Windows registry.

Introducing Bells & Whistles Tweaks for Outlook
The Bells & Whistles add-in for Outlook works with all Windows versions of Outlook (including Outlook 2019 / 365) and it features several tweaks & productivity features for Outlook. One of these tweaks is the ability to add / remove file extensions from the unsafe / blocked Outlook attachments list.
Once you've downloaded & installed the add-in, you can access your blocked attachments / extensions list from the Bells & Whistles Options menu -> Outlook Tweaks: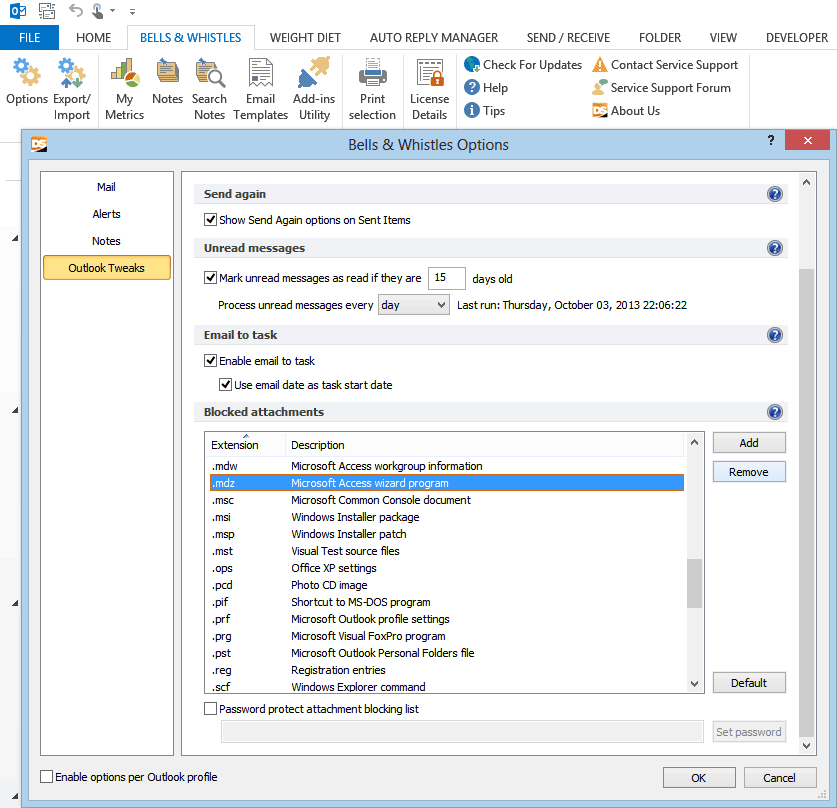 As you can see from the above screenshot, you can easily add / remove attachment types or even reset the blocked attachments list to its default settings.
That's it. There is no need to edit your Windows registry to unblock Outlook attachments 🙂
Optionally, to protect your settings, Bells & Whistles lets you password protect the blocked / unsafe Outlook attachments list, so no-one can unblock your Outlook file extensions without your permission.