This article explains how to properly configure Email Address Collector for Thunderbird and extract email addresses from its email folders & contacts.

As you probably know, Email Address Collector is capable of extracting email addresses not just from Outlook or Outlook Express, but also from any Mozilla Thunderbird version. However, some of our customers complained that they get an error message saying that "Mozilla Thunderbird is not running" when they try to access its email folders from Email Address Collector. Even if Thunderbird is actually running, they still get this error.
Solution: enable the Email Address Collector extension for Thunderbird
In order to access the Thunderbird folders, Email Address Collector is packed with an extension designed to communicate with Thunderbird and retrieve its folders structure. On some cases, this Thunderbird extension is not enabled by default, causing the above error message.
To enable the Thunderbird extension, please follow these steps:
1. start Mozilla Thunderbird;
2. open the Thunderbird Addons section by clicking on the Thunderbird top-right menu: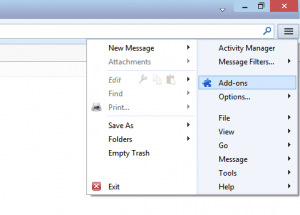 3. go to the Thunderbird Extensions tab and look for an extension named "Email Address Collector connector":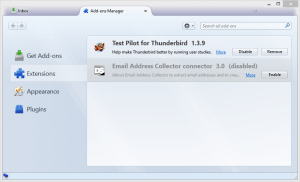 4. if the above extension is disabled, click on the Enable button and restart Thunderbird;
5. start Email Address Collector and now you should be able to see its folders structure and extract email addresses from Thunderbird.