In this tutorial I will explain how to extract email addresses and include or exclude only those emails that contain a certain subject line. The tutorial applies to Email Address Collector and it works for emails stored in email folders of the following Windows email client products: Microsoft Outlook 2000 or newer (including Outlook 2019), Outlook Express, Windows Live Mail, Mozilla Thunderbird (all versions), Eudora eMail.

Extract email addresses with subject filter – step by step
1. Obviously, the first step is to download & install Email Address Collector. It works with all Windows versions, starting from Windows XP. Then, click on its Programs icon to start it.
2. On the main program window, select the desired email client application to extract from: look on the left – bottom panel and click on the related email application name: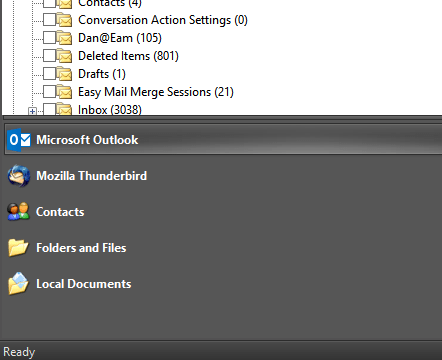 3. Select the email folders to extract email addresses from, then right click over them and choose "Extract from all checked folders":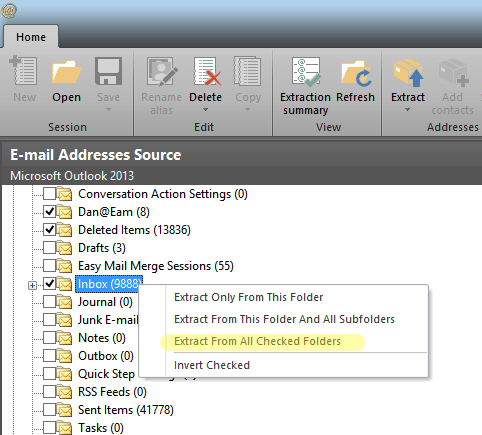 4. A popup window will be displayed, asking you if you want to extract from all emails found in these email folders or if you want to extract email addresses using filters. Click on the Filter button:


5. Email Address Collector will open the Filters window: here you can define lots of different filter options. For this tutorial example, we want to configure it to extract email addresses only from those email messages that do NOT include certain words in the subject line. To achieve it, go to the Messages tab and enable the option "Exclude messages that have the following phrase in their subject". If you would want to include only emails with a certain subject, you can use the option to include, instead of exclude: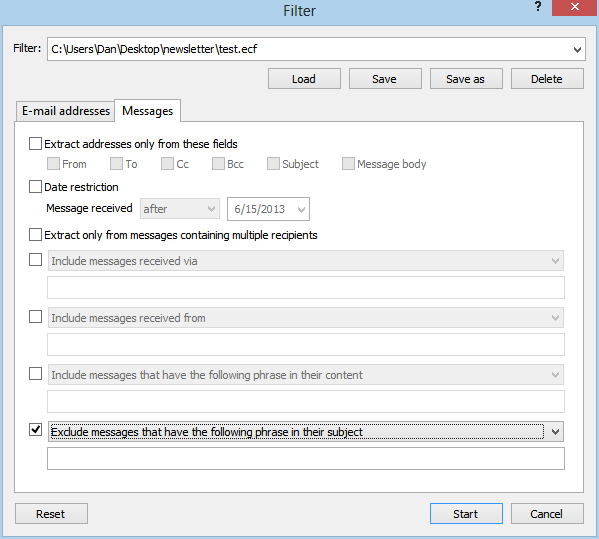 6. Let's say you want to all extract email addresses but exclude those emails that have an "Out of office" text in their subject. Simply type "out of office" in the filter option text box selected on step #5 from above:


7. When you are done configuring your email address extraction filter, simply click on the Start button. Email Address Collector will extract only those email addresses that match the filter you defined. Then you can save the extracted addresses as a CSV file or you can export them to Outlook Contacts or other contact management apps.
Why would you need to extract email addresses based on the email subject field?
Let's say you want to create a mailing list based on the senders found in your Inbox emails. Most likely, your mail folder contains all sorts of emails, including mail delivery failures, newsletters, payment receipts, out-of-office replies and so on. You can configure Email Address Collector to exclude such emails, so you end up with a mailing list that contains only those email addresses that actually matter.
Alternatively, if you want to create a mailing list based only on those people that reached you through a web contact form (so all these emails have the same email subject), you can use Email Address Collector and define an extraction filter that will extract email addresses only from emails that have the given email subject line, while all the other emails will be ignored.
Email Address Collector features tons of other extraction filters: you can choose to extract email addresses and include or exclude emails based on keywords found in the email header fields (TO, From, Subject), email content, email date, email domain and so on.