This blog article describes how to insert autotext in Outlook (Outlook 2010, 2013, 2016 or 2019), using two auto-text methods: the internal Outlook AutoText feature and the auto-text options of the Bells & Whistles add-in for Outlook.

Where is AutoText in Outlook?
Earlier Outlook versions (up to Outlook 2007) have a built-in AutoText feature allowing you to quickly insert text snippets into emails that you are composing in Outlook. Starting with Outlook 2010, the AutoText feature was renamed to QuickParts. You can only access it while you compose an Outlook email, from the Outlook INSERT ribbon menu: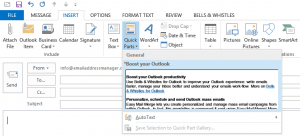 QuickParts works similar to the old AutoText Outlook feature:
– you can insert auto text blocks from the QuickParts ribbon menu;
– you can make text selections in your email and save them as auto texts in QuickParts;
– you can create categories for your auto texts:

A far better AutoText for Outlook
If you need enhanced text automation features, you need to look for an autotext Outlook add-in that can offer such abilities. Obviously, our choice is Bells & Whistles for Outlook.
This Outlook add-in features multiple autotext options:
– unlike QuickParts, you can manage (add/remove/edit) autotexts without having to actually compose an Outlook email. In fact, QuickParts doesn't even let you edit an autotext (you have to delete it and make a new one, if you want to change the autotext content);
– you can define keyboard shortcuts for auto texts (like CTRL + SHIFT + 1), so you can quickly insert them to emails;
– you can pre-fill other email fields (subject line, TO, CC, etc) in each auto text, so they get automatically filled in your Outlook email when you insert the autotext;
– you can choose the auto text format (plain text or HTML).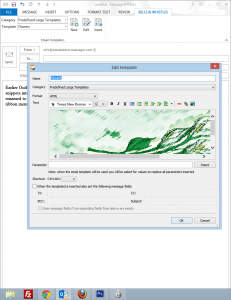 On top of that, Bells & Whistles also gives you other text automation options:
– automatically insert greeting lines to your email (like "Hi John,");
– automatically insert auto text signatures to your emails, based on your own rules;
– automatically insert email disclaimers to your Outlook emails, based on your own rules.
Bells & Whistles is designed to work with Outlook 2003 – 2019 and it supports both x32 and x64 Outlook versions.