Hey, can you believe it? I reached the limit of what my Gmail Inbox can hold… just so you know, they currently offer 10.1 Gb space of storage for our emails. Now, that's a lot of emails…
But, faced with the daunting task of deleting all of them (or, even harder – only some of them) in a web-view I started searching for a quick and easy way to accomplish this, something that seems kind of hidden in the options presented in Gmail. To help everyone out, here is a quick guide to deleting all your non-important emails from Gmail.

Do you want to delete old emails from Gmail?
If you just want to erase emails received prior to… let's say 2012, then just type in the search bar
before:2012/01/01
and press Enter.

You will be presented with your old emails below, and in order to select them all just click the select all checkbox located under the Search bar.
You will notice that everything has gone yellow (or another color, depending on your theme) and this message inconspicuously appeared above the list of results.

Once you click on "Select all conversations that match this search" everything you do will be applied to all results – a pretty handy feature, to say the least; you won't need to go through page after page selecting, after all!
Now, just press the Delete button and your emails will be gone.

Do you want to delete all emails from a specific person?
If so, then you need only write in the search bar
from:john.doe.the.third@yahoo.com (of course, replace john.doe[…] with the appropriate email address of your choice)
and then repeat the steps detailed above (check all and so on).
You can also use structures like
from:newsletter
and this will present you with all emails received from an email address in the form newsletter@*.*.
Do you want to delete all emails with attachments?
Because they take up so much space, it's a good idea to delete those first, and then see how much space it clears up. In order to filter them out from the other emails, just go to the search bar and write
has:attachment
and afterwards repeat the steps from above.
I could go all day detailing the plethora of filters Gmail offers, but there's already a list of them here – Advanced search. You can make any combinations of them as well, so let's say that you want to delete all emails from Dave and Amy that you received prior to 2011 and that have attachments – you will need to only write
from:dave OR from:amy before:2011/01/01 has:attachment
and, as always, follow the steps from before.
Here's a quick tip for you: if you aren't running out of space yet, then it's a much better idea to just Archive your old emails – you can do this by using a combination of the filters and then clicking on the Archive button located to the right of the Select All one.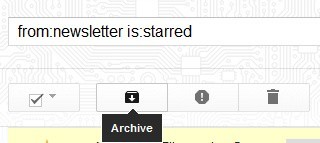 (here, for example, I chose to filter out messages from newsletter@*.* and which have been starred – either by me or automatically, based on my preferences)
Hope this helps, please feel free to leave some feedback if this helped you or if you have any suggestions for future articles. 🙂