That's right, today we celebrate 10 years since our first email productivity software!!! Although we've been in the software industry for over 15 years, in the last 10 years we focused on email productivity aids, especially on Outlook add-ins. We surely didn't reinvent the wheel, but we trust our software products made a difference for you, freeing up your time and taking the boredom out of your Outlook emails.

We started with Address Manager Pro, an address book management product (now discontinued) for Windows, then we moved over to emailaddressmanager.com (yeap, it's still there, up & running). Since 2012, Outlook-Apps.com is our new, shiny home.
Take a look at our infographic. We had our ups and downs, we surely haven't been perfect, but we do hope to make a new retrospective infographic, 10 years from now, showing you even greater achievements 🙂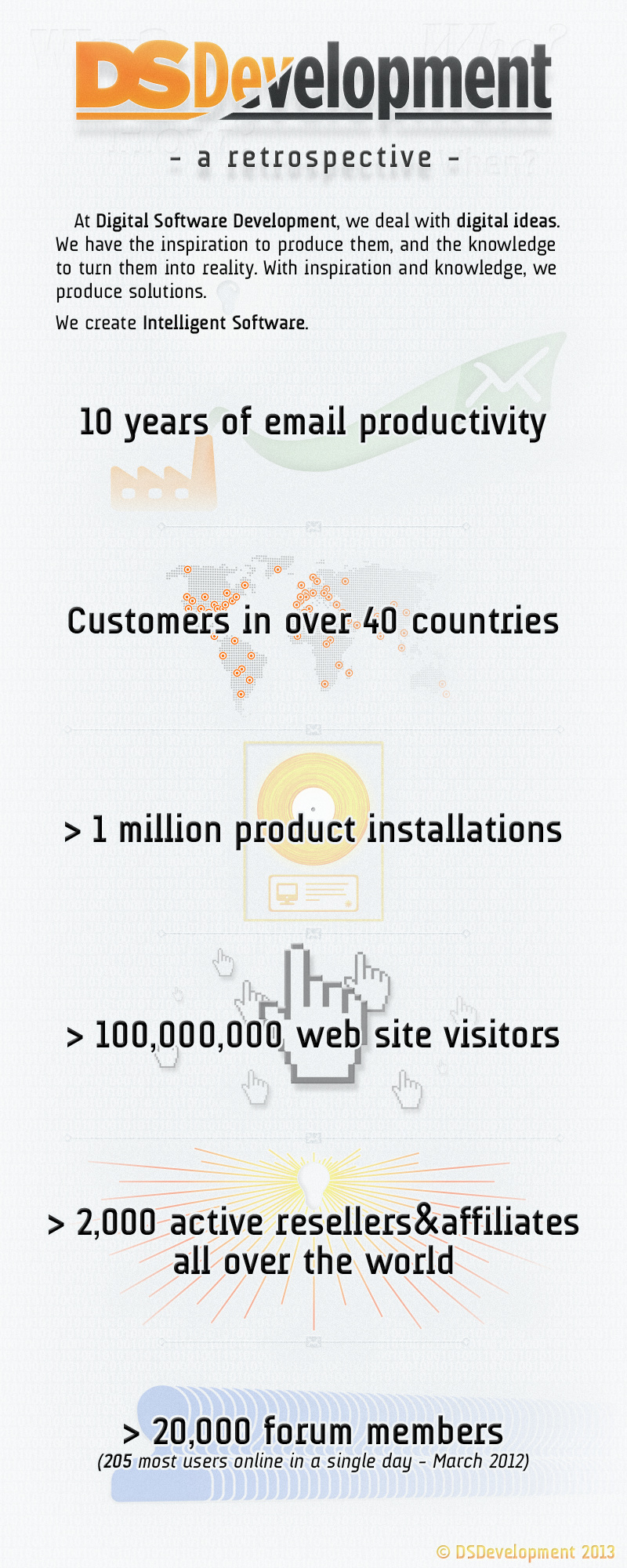 And, since you took the time to view our story, here is a special discount for you: purchase any of our Outlook products by the end of August 2013 and you can get a whooping 25% discount on your order! No quantity or product restrictions.
Simply apply the following coupon code at checkout: 10YearsDiscount.
Our Products in the Spotlight
And since this article is about a retrospective view of our business, here are some quotes from various publications regarding our email products:

PC World includes Bells & Whistles in the top software supercharges products:
"Bells & Whistles for Outlook saves you dozens of keystrokes by handling such pesky tasks as automatically adding a greeting to a reply, or warning if your outgoing message is missing an attachment or a subject line."
PC Magazine reviews Email Address Collector:
"You'd expect Outlook to know how extract all the addresses from an e-mail message into your contacts list, but it can't do anything of the kind. Enter Email Address Collector, which scours all the messages in an Outlook folder (or almost anything else) for addresses that it can add to your Outlook address book."
Computer Power User Magazine writes about Bells & Whistles:
"The aptly named Bells & Whistles for Outlook users is a keeper. Although all of its tools aren't as equally beneficial, combined they flesh out Outlook very well. In particular, BW's simplistic, yet handy, Notes utility may be worth forking over nearly 30 bones for alone."
PC World reviews Weight Diet for Outlook:
"Weight Diet for Outlook works as an add-in from right within Outlook. It's very simple to use, and does its job well. Even without moving my attachments to my hard disk – an option you are allowed to decline – I was able to save more than 150 MB on one .pst file."
PC Pro writes about Bells & Whistles:
"Everyone has a copying mechanism to deal with the masses of email they get sent every day, but now you can save time and hassle by automating common messages and tasks with Bells & Whistles for Outlook."
EveryJoe.com reviews Bells & Whistles:
"My favorite bit is the ability to customize your reply messages. I've got Bells & Whistles set up so that all my replies are sent in plain-text format, and the first name of the person I'm replying to is auto-populated at the top of my reply. I can even customize the characters that follow the name."
Softonic.com on Bells & Whistles:
"If it's a real upgrade your looking to give to Outlook you can try out Bells and Whistles for Outlook. This add-on has no less than 19 productivity tools available, among which email notes, automatically adding new contacts to directory or message exchange tracking."